So I don't know where you are, or what the weather is like where you are. But where I am, we are having what they call an 'Indian summer'. This means although I've already stashed my summer clothes safely under my bed in a suitcase I did NOT plan on opening until next spring, I have been forced to visit it already, in early October - whilst re starting my tanning regimes. (All of you avid readers of my blog will realise how much of an inconvenience this must be for me).
But this morning, the air is a little chillier, and I have heard through the grape vine that the fluffy clouds actually plan on delivering us some snow.
Really, I do not see why it has to be so drastic… from 30 degree heat you should expect in Spain (not Southampton) to snow you wouldn't usually want to see until about the festive holidays. But I guess beggars should'nt be choosers.
So THANK YOU WEATHER MAN… because now I can (probably a little too enthusiastically) start my research on what kind of scarf I want to add to my winter wardrobe wish list. First of all… it is all about the knitted scarves (crocheted scarves are also cool - there is an exception for those thanks to Henry Holland) but it is mainly all about the knitted scarves. So here are a few inspirational photos I have collected from all over tumblr.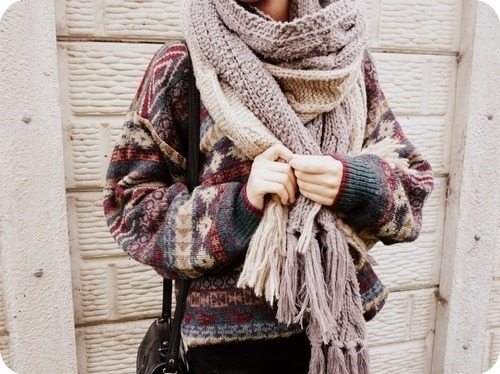 As you can see… I like pugs. A. LOT.
But on a more serious note… I meant to say 'As you can see… I like chunky scarves'.
I think the idea of two smaller scarves together looks quite funky and rather alternatively funky but I'm pretty sure chunky scarves are the way forward for me. I like red - and I have three 400gram balls of rather nice red chunky wool at home. So I think I am going to have to make myself a cable knit chunky scarf for the winter. Which in much contrast to today's weather, seems pretty pronto considering the happy little weather man on the news told me I should be expecting snow this month.
*Needles at the ready* *Get set* *GO*…
Will you be knitting a scarf this Winter… or would you rather play safe and buy one from Asos?